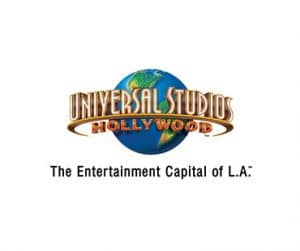 Universal Orlando® Resort : Lorsque votre séjour devient une aventure!
Venez vous amuser, crier et rire avec les personnages les plus célèbres de vos films préférés, mais aussi de la télé et de la culture pop dans les 2 parcs Universal de Floride: Universal Studios Florida® and Universal's Islands of Adventure®.
Préparez-vous au combat avec TRANSFORMERS™: The Ride–3D, volez entre les gratte-ciel avec Spider-Man™, participez aux aventures de Shrek, tentez l'adorable et amusante expérience de Despicable Me Minion Mayhem 3-D ride (Moi, Moche et Méchant), et profitez des restaurants et de la vie nocturne du village Universal CityWalk®.
Universal Studios Hollywood : « The Ultimate Hollywood Movie Experience »
Afin de découvrir ce qui se cache derrière les décors de cinéma et les tapis rouges, embarquez pour le fameux Studio Tour ! Vous pourrez vivre une expérience insolite sur l'un des plus grands plateaux de cinéma de l'histoire d'Hollywood reproduisant une rue grandeur nature d'après les conseils du réalisateur Steven Spielberg. Rendez-vous dans les décors de la série Desperate Housewives (fameuse série de la chaîne ABC) ou découvrez un aperçu inédit des blockbusters tels que King Kong 360 3-D. Cerise(s) sur le gâteau, les nouvelles attractions de The Walking Dead et The Wizarding World of Harry Potter. Frissons garantis !